Summary
Prior to autosharing, institutions / Careers Leader (CL) needed to opt in and choose to share their data with Enterprise Coordinator (ECs) and Hub leads (a Hub lead can only see an evaluation if it has been shared with the EC, otherwise unlike a Local Enterprise Partnership (LEP) user, they will not). If an EC changed then an institution would need to re-share their evaluation reports.
To make the time CL spend administrating more efficient and ensure the LEP team are able to effectively support CL in developing their careers programme, Compass evaluations will now automatically be shared with the LEP team and we are automatically able to do this following confirmation from DPO that this data sharing counts as legitimate interest.
Autosharing means that as soon as a (new) EC is linked to an institution, the previous, current and all future evaluations will automatically be shared. The benefits to institutions and CL in sharing Compass evaluations with the LEP team through autosharing includes:
An EC / Hub Lead can quickly identify areas of development where they can provide advice and support

An EC / Hub Lead can sign post to resources or sources of support to help CL make rapid progress against specific benchmarks

An EC / Hub Lead can match CL with local providers or employers offering activities in your area

An EC can identify areas of strength in programmes and invite CL to showcase these and share best practice with local networks

An EC / Hub Lead will be able to identify on a local or regional level, areas of challenge and advocate for investment in support and resources in these areas
What the user sees
From the updated changes, when the user logs into Compass, the CL will see the following: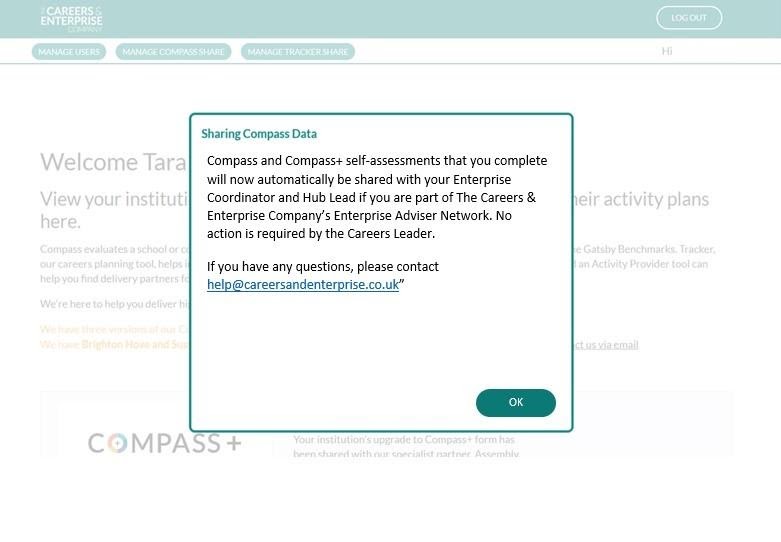 Navigating to 'Manual Compass Share' from the header toolbar, the user will see manual and autosharing tables, indicating evaluations that are autoshared with ECs / Hub leads / LEP users / RL / AM and those that are manually shared to any registered user: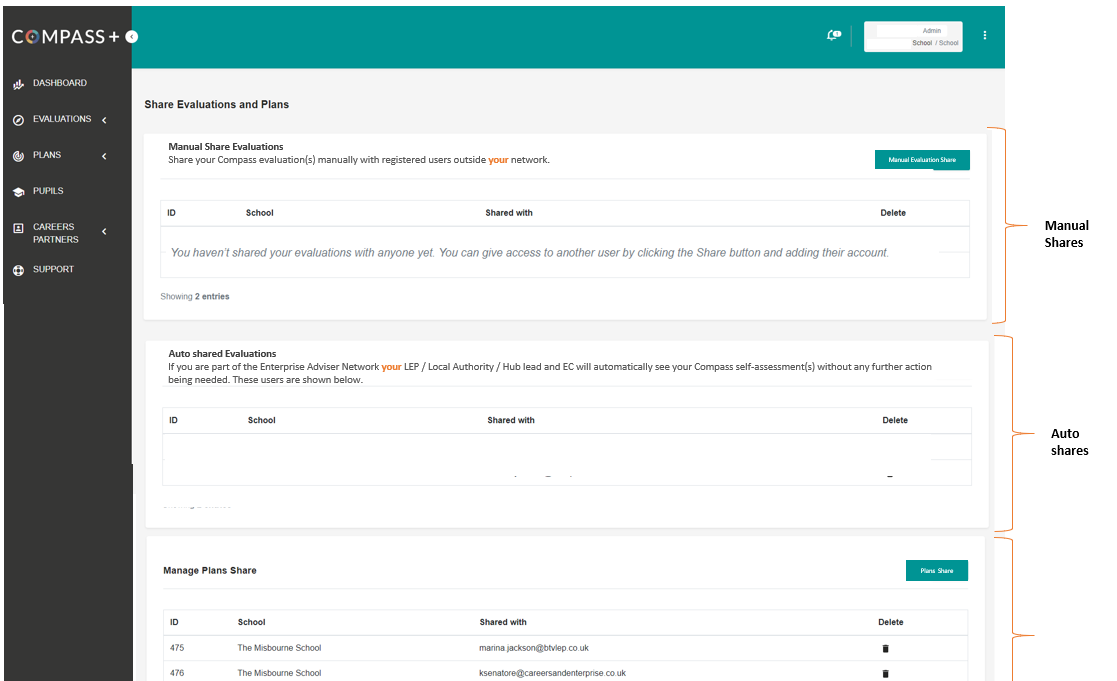 The autoshared section will show those that automatically see Compass evaluations due to legitimate interest and cannot be edited (ECs / LEP users / Hub leads / RL /AM).
What information will be shared?
The information shared will only contain the results of the Compass evaluation. No student level data stored in Compass OR Compass+ will be shared outside the institution. Only the designated LEP team will be able to see the Compass evaluations unless the institution / CL has manually shared them with other registered users outside the LEP.
When will autosharing go live?
Autosharing went live on the 27th April. If there are problems with Compass evaluations not being seen, then please contact the customer service desk on help@careersandenterprise.co.uk who will investigate the issue further.
Does autosharing work for non_EAN schools?
Only schools that are part of the network will have autosharing enabled.