Watch our video or reference our step-by-step guidance below:
1. To begin creating a new evaluation, select "Evaluations" and then "New Evaluation" in the main navigation to the left of the screen.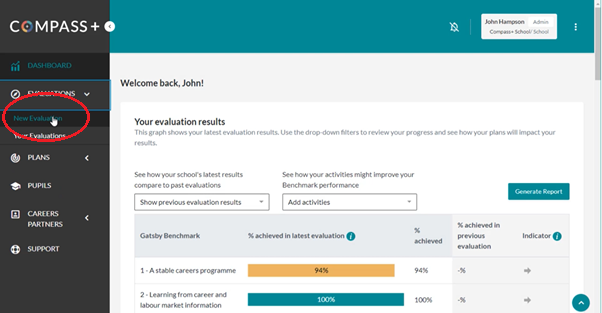 2. You'll then see the "New evaluation" screen, select "Next" to start your evaluation.
Click "Next" to move between the different pages of the evaluation. You can also 'Save and complete later' at any time during the evaluation.
3. You'll then be asked to enter your data in a series of forms. Start by entering your job title, you will then see your pupil numbers for each year which has been captured from your Management Information System (MIS) and you will then see and complete a series of questions for each of the Gatsby Benchmarks
4. When you've completed your evaluation, you can instantly see your evaluation results by clicking "View Results"
5. On the Results page you can view your institution's Gatsby Benchmark scores, together with the progress since your last evaluation and how you compare to other schools nationally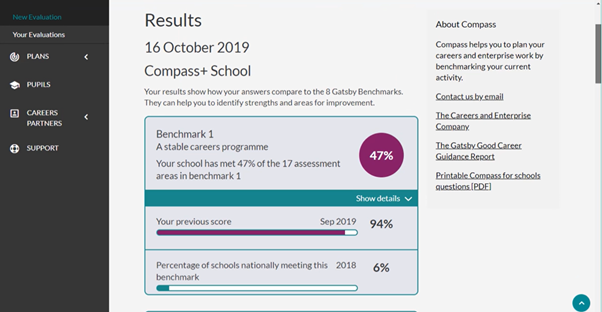 6. To return to your completed evaluation, along with any other evaluations you have previously started or completed, click on "Evaluations" and then "Your Evaluations" in the main menu.
7. From here you can view, print, copy, remove or update your completed evaluations. You can also resume or remove a partially completed evaluation.
8. The results of your most recent completed evaluation are shown in the first data visualisation at the top of your dashboard. You can navigate to the dashboard, by selecting "Dashboard" in the left hand navigation.
To see your progress from your last evaluation, select the "Previous Evaluation" from the first drop down menu. Transparent bars will appear on the chart showing your previous percentage scores.