Article published 01.07.21

We've recently made some improvements to the Interests and Destinations tab for special schools on a pupil's individual personal profile.

Interests

Previously, the values in the key subjects, industry and job role of interests fields had to be selected from pre-defined lists. As these values are not always appropriate for pupils at special schools, users can now type their own values into these fields.

To enter a new value into one of these fields, simply type it and press 'Return' to save it. In the example below, a Careers Leader at a special school enters 'Sensory' as a pupil with SEND needs' subject of interest:
The value 'Sensory' will be retained in the key subjects dropdown list, and be selectable from the key subjects list for other pupils within the same school.

This new feature also applies to the industry and job role of interest fields.
Destinations
The same lists are now shown for KS4 and KS5 throughout the form, recognising that SEND pathways may happen at different times. The following fields have also had new values added to their dropdown lists to make them more appropriate for special schools:

Establishment and Route
We have now added specialist colleges from Natspec so that Specialist Further Education institutions can be selected from the Establishments dropdown list.

In the example below, a Careers Leader searches for and selects 'National Star College' from the Establishment dropdown list: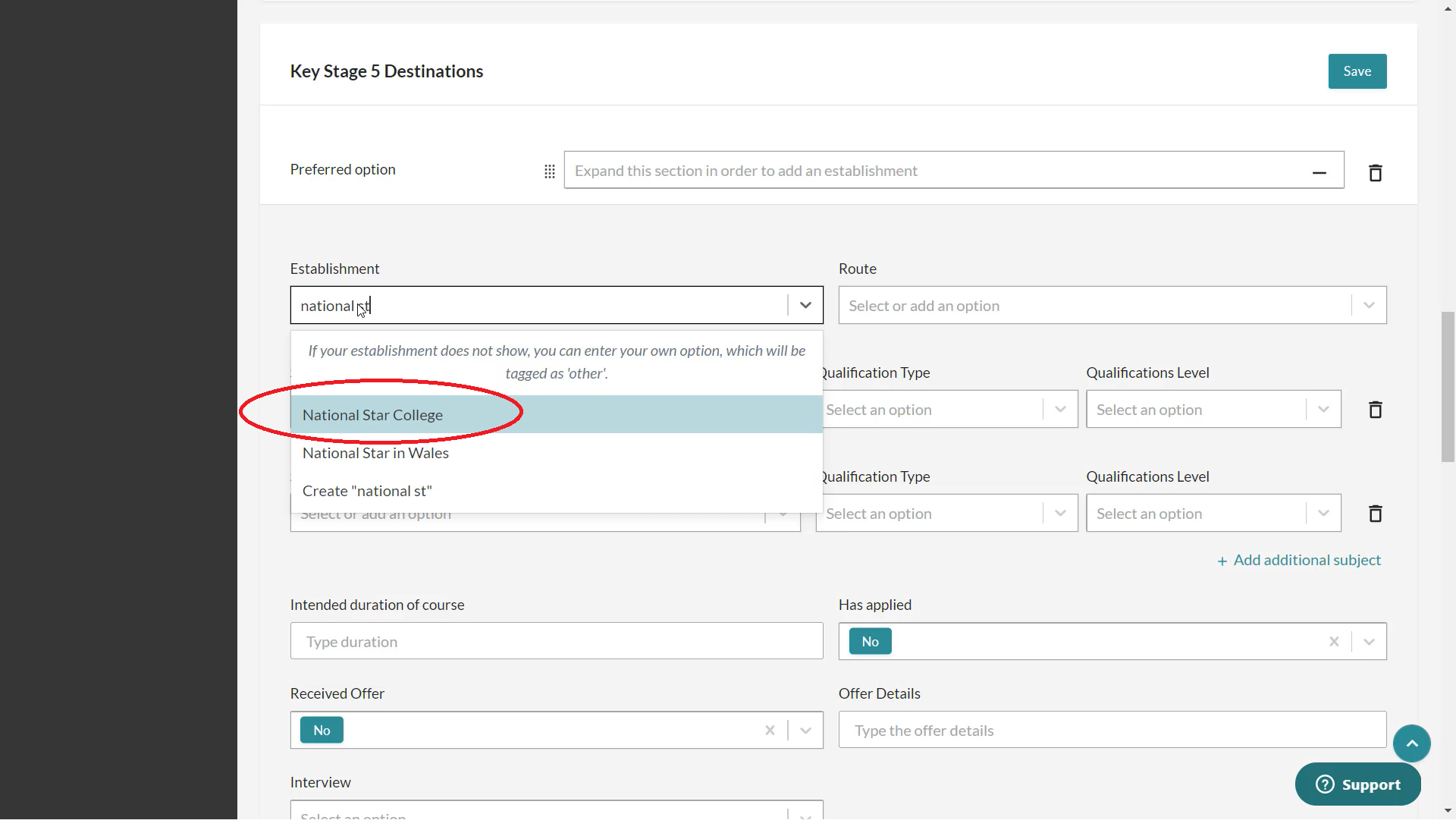 We've also included new values in the Route dropdown list, including:
Preparation for Adulthood

Pre-support internship

Supported internship

Pre-apprenticeship

Traineeship

Supported employment.
In the example below, a Careers Leader at a special school selects 'Preparation for Adulthood' from the dropdown list:

Qualification Type and Qualifications Level
We've also added 'Preparation for Adulthood' as a value in the Qualifications Type dropdown list:



Further values have also been added to the Qualifications Level dropdown list, including Entry Levels 1-3: